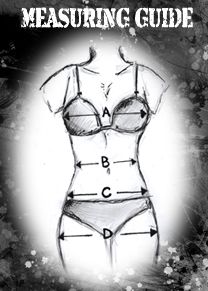 Most garments will be handmade especially to fit, therefore it is important that you measure yourself correctly using the diagram. Due to the custom nature of these items, I will be unable to refund or exchange any made to measure items if they do not fit, so take some time to double check your measurements are correct before ordering. The sizing chart below is just for a vague reference if you do not have a tape measure-if you do use the chart to guess your measurements, this still counts as being made to measure and if it does not fit I will be unable to refund or exchange the garment.
A GUIDE TO MEASURING YOURSELF
Using a tape measure, take the measurement in inches around points A, B, C and D.
POINT A=BUST (Fullest part of bust)
POINT B=WAIST (Thinnest part of waist of mid waist)
POINT C=SKIRT WAIST/LOW WAIST (Where the top of a normal skirt would rest)
POINT D=HIPS (Fullest part of hips)
SIZING CHARTS
A rough sizing chart for UK sizes.
A basic size conversion chart for other sizes.